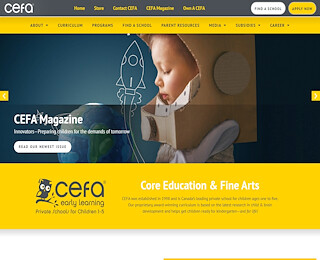 Today's society is more advanced than ever before. Traditional learning methods for young children are quickly becoming outdated. Alternative learning methods are often the best option for providing a solid educational foundation for children. At CEFA we employ some of the most successful techniques to provide high quality learning options for children ages 6 months to 5 years old.
CEFA Learning Method
CEFA provides alternative learning methods that are designed to teach the whole child in all areas of life. We offer basic teaching in the main areas of traditional focus such as reading, writing, math and science. Then, we take it a step further by adding dance, fitness, music and arts into the program. Our students have fun and at the same time they get to sample a large variety of different parts of life. They can start to find some of the things they enjoy most while they start on their path towards higher education.
Our modern approach to learning allows students to succeed in the world today. We help children achieve not only academic education but also social, emotional and physical as well. CEFA stands for Core Education and Fine Arts and was established 20 years ago to enrich young children's learning. Our alternative learning methods help children assimilate into the world and assist them with specialized training.
We offer a variety of flexible options including part-time and summer programs. We also offer junior kindergarten to prepare young children for their first year of school. Our teachers use our method that includes the opportunity to learn and grow through play in the classroom along with teaching core subject matter.
Helping Children Grow and Learn
At CEFA our alternative learning methods provide young students with the foundation they need to succeed in school and in life. We educate the whole child academically, socially, emotionally and physically. Our teachers are certified and are trained in our methods while they develop their own classroom curriculum.  
Children are grouped by age and abilities so that they have the best learning experience possible. Learning is fun at CEFA and children are able to explore many of their interests as they start to discover themselves. Our teachers encourage youngsters to learn about the world around them while also learning respect for others.
There is no better place to start your child's education out the right way than at CEFA. We know how to guide your children in their learning experience by helping them be the best they can be. They enjoy learning and this important trait will follow them throughout their many years of continued education. With our support and leadership your child will learn to become an outstanding citizen with a lot to offer the community and world.
There are a number of CEFA locations across the country. Locate the CEFA learning center that is most conveniently located and submit an application. We are happy to provide you with more information and answers to your questions. Contact us today to start the enrollment process.