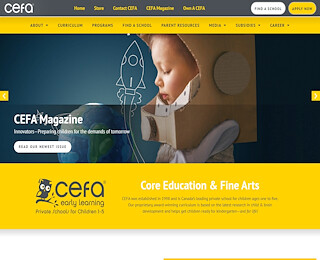 All parents want the best for their children. Most parents want and need to enroll their children in daycare when they are young. There are many different daycare centers but providers are not all alike. Alternative learning schools have been found by many parents to be the best option for children up to the age of 5. Alternative learning schools offer high quality education that allows kids to learn a large variety of subjects to give them a strong foundation that prepares them for school and for life.
Choosing Alternative Learning Schools
Traditional schools have been providing children with a basic education for many years. Alternative learning schools, such as CEFA, offer much more advanced education for children before they enter kindergarten. CEFA utilizes an approach that incorporates the whole child in the learning experience. In addition to the standard core academics of reading, writing, math and science, we also include experiences that help a child socially, emotionally and physically.
Teachers are certified and are trained to provide learning experiences that are in line with the CEFA methods and mission. Our teachers plan their classroom curriculum with their students in mind. They balance classroom materials, exploration, outdoor time and activities in a way that supports and challenges children as they learn new concepts and ideas. Children are given the freedom to develop their own creativity.  
CEFA Curriculum
The traditional foundations of education are covered to prepare children for entry into school. The pre-writing program helps children with their fine-motor skills. Our mathematics program puts an emphasis on developing a child's reasoning skills. Children are taught the seven essential components of reading.  Children learn the basics of science through observation and experimentation.
In addition to the fundamentals we also include a number of programs that are designed to enhance the child's overall success. Some of these programs include visual art, music, languages, culture immersion, dramatic arts, physical education, dance and yoga. These programs aid children in adding to their overall exposure to a wide range of different and interesting things. We give them exposure to a wide range of experiences so they can explore their interests and develop their talents.
Choosing CEFA
Many parents find that CEFA fulfills all of the needs of their children while preparing them for the next steps in their learning and development process. Parents may choose part-time care several days a week as a flexible option. Summer programs are available. Pre-kindergarten programs are designed to prepare young students for entry into kindergarten. Children are placed into classrooms based on their age and abilities. Programs are available for children as young as 6 months old. The classroom activities and programs are all designed specifically for a child's age group.
There are many CEFA locations in Canada. The first step in the process is to complete and submit an application. We will assist you in the admission process. It is best to submit an enrollment request as early as possible to ensure that your child has a space. Learn more about our programs and submit an enrollment form online.