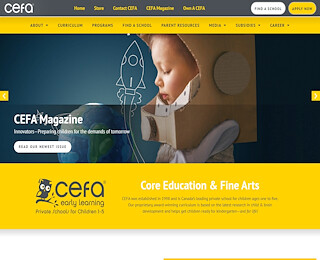 Research has found that some of a child's most important developmental years are those before the age of 6. Young children are curious and are learning about the world around them and about themselves. They are very impressionable and are enthusiastic about learning. It is during this time that parents should provide their young children with the best possible Burnaby daycare. A comprehensive daycare program will fulfill your child's needs and help them grow and develop.
Burnaby Daycare Curriculum
Not all daycare providers are alike. Many don't offer a full program that allows children to be exposed to all of the various subjects and areas of interest that will give them a head start in life. CEFA utilizes an enriched proprietary world-class curriculum that offers a well-rounded approach to learning.
CEFA uses a modern take on all of the core subjects including reading, math and science and adds fine arts. Children are encouraged to develop and grow through the use of experimental learning and play. Teachers at our Burnaby daycare assist in the learning process and oversee the development of new skills and interests.
Literacy is one of the most important skills that young children can learn. Research has shown that reading at a young age is helpful for developing the brain and is a fundamental in lifelong academic success. Our reading program gives youngsters the vocabulary and literacy skills necessary for building independent reading. Children learn to read phonetically as well as through the development of seven essential components we have identified.
The pre-writing program introduces children to the motor skills they will need in order to learn how to write. The program builds on these skills throughout the formative years. The skills are taught through fun and exciting games and activities such as drawing.
High-Quality Daycare Program
Children who are enrolled at our Burnaby daycare are happy and well-adjusted kids with a thirst for learning. Young students are presented with many opportunities to learn, grow and develop through our unique and fun learning programs. Children have daily exposure to elements of the curriculum so they are always building new skills, even though they likely don't realize it.
Daily subjects include reading, writing and STEM along with enhancements such as music, physical education, visual arts, drama, yoga, relaxation and culture immersion. Teachers not only present the activities but also observe and document children's interests. This allows teachers to help build and focus their teaching on the areas that are most interesting to young students. The program is designed to encourage curiosity and develop a lifelong love of learning.
Our Burnaby daycare provides everything your child needs to develop, learn and thrive. Our programs include meals and snacks prepared by our chef. Our programs are designed for children aged one through five. The early learning program begins in September and continues through the end of August. Enrollment generally occurs in the spring for the upcoming year. When space permits, we allow enrollment at other times throughout the year. Contact us today to learn more about our excellent programs and to begin the application process.  
Burnaby Daycare
We welcome your comments!