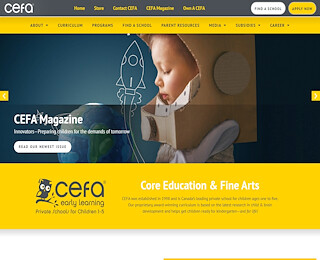 Congratulations on deciding to open your own daycare! Here at CEFA, we think that the work people are doing in early education is some of the most important work in the world. Owning a daycare or preschool gives you the opportunity to make an impact on young children and therefore play a significant role in the future. With that said, here are some questions to ask yourself before opening your own daycare franchise.
What Are the Monthly Costs Associated with Daycare?

The first question to ask yourself before owning a daycare franchise is what your budget will be. Remember that with daycare, the costs you need to think about include staff salaries, the lease for your location, utilities, administrative costs, supplies and material including food, as well as licensing and zoning fees. Other fees include the costs of insurance and regular maintenance for your facility.
What Type of Educational Model Will I Use?

One of the most important considerations when owning a daycare franchise is the type of educational model you're going to be using. This is of particular importance when you have a preschool component in your daycare, as most parents will ask you specific questions about this.
Montessori is well known and may be the best-known early education program, but it's not the only valuable method. There are several different types of early education programs available. Doing your homework into the different types and which one you feel personally is best is vital.
What Part Will I Be Playing in The Business?

Just because you own the daycare franchise doesn't necessarily mean that you're there every day, monitoring employee turnover, wiping peanut butter off of kids' faces, or collecting payments from parents. You may want to have more of a supervisory role over the daycare, or you may want to get involved in the day to day operations of the facility.
The good news is there is no right or wrong way to own a daycare franchise. Whichever way you want to play it, the decision is up to you and requires that you know what you're best at and where you may want to set off to the side and supervise.
How Much Experience Do I Have with Daycare?

There are successful daycares that got started having no experience with daycare before. There are others who started as parents of children in daycare who wanted to make an impact and bought a franchise or started their own independent daycare center.
Ultimately, you'll want to visit a few daycare centers before deciding to open a daycare franchise. If you haven't ever seen the daily goings-on and activities associated with a daycare setting, then you have some homework to do. Make sure you know what kind of neighborhood your daycare needs to be in, see how the staff handles certain situations such as sick children or difficult parents. You'll get a lot of information by visiting several different providers.
Buying your own daycare franchise may be the best thing that you ever did. You need to ask the right questions to make sure you're ready for it and that you're prepared to do it right.
We Specialize In:
dog daycare franchise,childcare,preschool,buying a franchise,franchise opportunities,franchise business,cost franchises,franchises for sale,daycare center,child,business plan,food franchises
We welcome your comments!