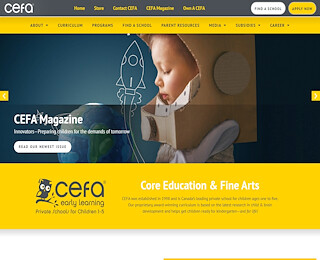 Taking your kids to a daycare in New Westminster can be a great thing for you and your kids: You get your work done and are able to provide better for your family while your kids have fun and learn in a structured environment designed specifically for them.
Taking photos of children during all of these fun and educational activities may be pretty standard, but rest assured that your child's privacy is taken very seriously at CEFA. While we are very concerned about protecting your children's right to privacy while they are in our care, here are some things that you can do in your own life to further prioritize their privacy and safety everywhere else.
Be Careful Sending Photos
Through certain encrypted messaging apps such as WhatsApp or iMessage if you have an iPhone, you can send photos to individuals or groups of people straight from your phone. These apps are free to use and in the case of iMessage, included on your device. There are additional security measures that you can opt into that will make messages disappear after being viewed or after a period of time.
When you choose a daycare in New Westminster that prioritizes your children's safety and security, you never have to worry about them distributing photos or information about your children to anyone but you, and only if you request it and in a method that you choose as well.
Use Safe Photo Sharing Apps
When sharing photos with a daycare in New Westminster, you may want to consider using photo apps that allow you to create shared albums. The photos are stored on the cloud, such as with Google Photos, and allow people to create links to photos or albums rather than sending them electronically. You control the privacy settings of the photos as well.
Stay Wise on Social Media
When you're on social media, be aware of all the safety measures and privacy options there are to keep you and your family safe online. Keep your social media accounts private. This will give you a lot more ability to control who sees what and what you're sharing with people you don't know well on social media.
When you have kids in daycare in New Westminster, there are going to be lots of pictures that you want to blast on social media and share with all your friends and family. However, there may be people on your friends lists and followers on your social media that you don't know. Keep your friends and followers just to those people who you know you wouldn't mind having as part of your children's lives, because when you share photos, that's just what you're doing.
Whatever daycare in New Westminster you choose, make sure that they are keeping the safety and privacy of your children's photos private and secure, especially if they're posting any photos online. When you choose CEFA, you're getting a provider that cares for each of their young students and ensures their privacy at all times through these best practices.
Daycare New Westminster
We welcome your comments!