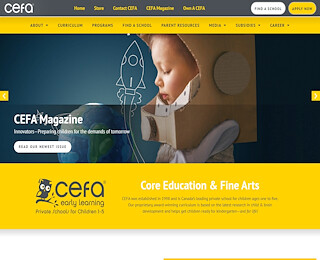 A lot of parents worry about sending their kids to daycare because they're not sure how they or their child will cope with the drop-off process. If this is your first time with kids in daycare in North Vancouver, we know how hard it can be to let go and be away from your children all day.  This is why we at CEFA have put together this list of tried and true daycare drop-off methods that work:
Bring Something Familiar
Probably every daycare in North Vancouver that you visit will suggest bringing a familiar blanket or stuffed toy from home to help ease the transition into daycare for your child. For older children, a picture of the family may be a good comfort object to have at daycare. For smaller children, a comfort object may be an article of clothing that belongs to the parent, or a favorite toy or blanket.
Make It A Ritual
Your child will likely do a lot better being dropped off at daycare in North Vancouver when he or she knows what to expect. The best way to do this is by creating a daily ritual when you say goodbye. For instance, if you drop off your child every day by giving them three kisses on the cheeks, a hug, and high five, they'll know what to expect. This also helps limit the time you spend dropping them off each day.
Talk Through It
Even if your baby is unable to talk yet, they will still benefit from hearing you talk through what's going to happen prior to their daycare day starting. Babies pick up on the emotional tone of voice you use, and so as you calmly talk to them about how the day is going to go, they'll feel reassured and calm. Another thing you may want to try is to pick up picture books about daycare and read through them.
Start Part-Time If Possible
If it's possible with your schedule to do so, consider easing your child into daycare in North Vancouver by starting off part-time. Letting them ease into it rather than dropping them off for an entire workday of 9 or 10 hours will help make an easier transition. Most daycares will understand how helpful this is and may be able to suggest a part-time schedule that works for everyone.
Check in Regularly
Last but not least, checking in regularly with the daycare will help you understand how well your kid is doing during the day and give you the positive reassurance you need to know that you're doing the right thing. Daycare in North Vancouver can be difficult but it's usually much more difficult for the parents than it is for the children! Checking in and giving us a call when you need to throughout the day is pretty standard for new daycare parents and your child's caregivers will likely be happy to provide you with an occasional update.
Daycare in North Vancouver is largely a positive experience for parents and children as long as you have done your due diligence and picked the best one. With our tips and possibly asking your daycare team a lot of questions, you and your child will be seasoned daycare drop-off pros in no time.
Daycare North Vancouver
We welcome your comments!