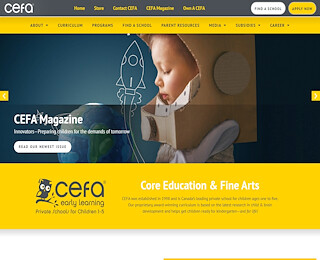 Your child's most formative years are between birth and 5 years old. This is the best time to provide your child with high quality learning and exposure to plenty of different and new subjects. One of the places to make this happen is at a leading preschool in North Vancouver. Not all preschools are alike and many don't offer the type of academic study that is crucial during this formative time.
Preschool Curriculum
The curriculum at our preschool in North Vancouver is among the best in the country. We provide comprehensive learning that is age-appropriate. We use a modern mix of core subjects along with fine arts that give children plenty of ability to learn, develop and grow. We use experimental learning and play to enhance the experience to make it fun and interesting for kids.
The CEFA literacy program helps boost a child's cognitive abilities and improves their memory, speech and thought processes. Research has found that children who learn more than one language are often more advanced than other students of the same age. We use fun games, songs and activities to introduce young students to basic vocabulary.
Our reading program teaches children to read not only through phonics but also by developing the seven essential components of reading. Our letter-by-letter method offers an easy way to learn to read and can be used at home by parents to encourage learning.
Pre-writing assists a child with motor skills and introduces them to the fundamentals that will be necessary as they start to write. Children train hand muscles and learn hand-eye coordination that are basic to writing. Fun games and activities help children begin to write and introduces them to drawing lines and curves and eventually letters and words.
Choosing a Preschool in North Vancouver
Many preschools are simply babysitting services that don't offer the type of learning platform that is essential to a child's academic development. CEFA is a top-rated preschool in North Vancouver with a program that focuses on the building blocks for lifelong academic success.
Our full day programs are designed to stimulate and engage young children. Our teachers present activities to children and also observe their interests so kids can participate in things they enjoy. Children are taught academic subjects as well as fine arts and physical education. They are taught how to learn so they develop curiosity and a thirst for learning that will become a habit for life.
There are no additional costs for participation in extra-curricular activities. We provide nutritious and delicious meals prepared daily by our on-site chef. School is open year-round with programs starting in September and going through August. Enrollment is open in the spring but if openings are available your child can begin at any time.
We offer a gradual entry program that allows teachers to work with new students to introduce them to the program at a pace that best suits their needs. Parents learn more about our programs and find a local CEFA preschool in North Vancouver on our website.
Preschool North Vancouver
We welcome your comments!