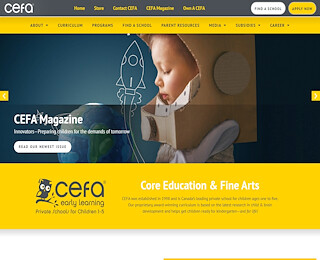 Finding the best childcare for your young boy or girl can be one of the most difficult decisions you need to make. There are many daycare facilities, preschools and private schools in BC. When you are choosing between the various options you want to consider the quality of the education that your child will receive. Many parents don't realize that even young children can benefit greatly from the right type of education from their care provider.
Choosing a School for Your Child
Your child deserves the best education that you can provide. Youngsters are starting to explore and understand the world around them. They are starting to develop the building blocks of education that will give them the foundation necessary to build a strong education. Not all private schools in BC offer high quality education. Core Education & Fine Arts, CEFA, is one such school. It is based on concepts from Montessori schools but provides an enriched revision.
The early learning program is designed to give students a solid foundation in the core curriculum of reading, writing, math and science. Then it goes beyond that to include fine arts programs such as music, dance, exercise, yoga, drama and more. The CEFA program was created to educate the entire child including socially, emotionally and physically as well as academically.
CEFA Curriculum
There are many ways that CEFA private schools in BC help young children succeed. Pre-writing improves motor skills so that young children can begin to write. Reading is taught by providing children with the seven essential components, not just phonetically. Math reasoning skills are a focus so children learn to think about problem solving. Science is often hands-on with plenty of observation and exploration.
Beyond the basics, children are exposed to many different areas of interest. Culture immersion gives kids an insight into the world outside their own home. Dramatic arts and music give kids a fun outlet for their creativity. Physical education and yoga allow them to channel their energy in constructive ways. All of the programs are based on CEFA concepts. Teachers are certified and are able to develop classroom activities based on the individual needs and developmental abilities of the students.  
Learning is fun at CEFA private schools in BC. Children are learning although they often don't realize what is happening. Teachers and principals treat children with respect and kids learn to do the same. Kids are provided with nutritious meals and snacks and have naptime when needed. Programs are flexible so parents can opt for just several days a week if they prefer.
Pre-kindergarten programs are a great way to prepare your child for their school experience. When kids have the background they need in school curriculum they will feel confident and secure once they enter kindergarten and beyond. A strong foundation from one of the best private schools in BC will ensure that your child will be successful throughout his or her higher education. Contact CEFA today to learn more about our programs and to submit an enrollment application.
Private Schools In BC
We welcome your comments!