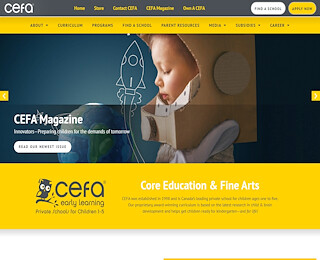 Enrolling your child in a great daycare program such as those you'll find with CEFA is a great choice as a parent. Richmond daycare offers many benefits to you and your children that will help them grow socially, mentally, physically, and emotionally.
As a new parent or a parent who has recently decided to enroll your child in daycare, then there are a lot of questions to ask yourself and prospective Richmond daycare facilities in the coming days and weeks. Here are some of the considerations and things to think about at this stage in your life.
Do You Travel A Lot?
If you or your spouse travel a lot for work, then it may not be a good idea to have your children enrolled in a daycare that's close to the frequent traveler's workplace. Instead, perhaps look closer to your home or closer to the opposite parent's office.
Which Parent Will Be Dropping Off and Picking Up?
It's important to consider each parent's work schedule to determine when the most convenient pickup and drop-off times would be. If you work a 9 to 5 schedule compared to your spouse's earlier schedule, having you be in charge of daycare drop-off may work better and allow your child to sleep longer in the morning. Then again, if the parent with the earlier work schedule is able to take charge of daycare pickup, you may be able to save money on childcare by having a shorter schedule.
How Long Is Your Commute?
If your commute is already very long, or if driving your child to Richmond daycare takes you out of the way on your way to work, perhaps consider a daycare that is either along your route or closer to work or home so you don't have to detour very far. When you have children in daycare, it may be of primary interest to you to save money, which will become problematic if you're spending a lot on gas to go to a Richmond daycare that is further away.
Do You Want Your Child Close in Case They Need You?
In the rare event that your child is injured while at daycare, it's imperative to consider how long it would take you or your partner to reach your child. In those cases when children are too sick to be at daycare any longer, one or the other parent may need to rush to the provider to bring the child home. Make sure you keep this in mind when choosing the best facility for your family.
Do You Have Other Children?
Finally, if you have other children with their own school schedules to contend with, this is another key factor in the daycare you choose. The ideal location may not be towards your or your partner's workplace but closer to your other children instead.
Once you have considered all of these factors and are satisfied with the answers to these questions about Richmond daycare, you're ready to find one that will work for you and your child because of its location and other factors. The location of your daycare may not be the most important factor when choosing childcare for your little ones, but a convenient location to home or work is a significant benefit.
Richmond Daycare
We welcome your comments!