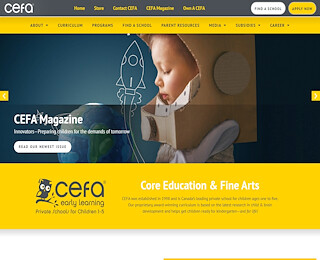 If you are looking for a Richmond preschool that caters to early learning for children ages one to five, with programs in the curriculum that focus on core subjects having blended such as math and reading, as well as fine arts like yoga and drama, your children can learn it from CEFA Early Learning School in Canada.
We are a private school leading to children ages one to five with a specific-at-age curriculum that incorporates the newest research in developmental and behavioral psychology and sciences. Our CEO Natacha V. Beim is also CEFA Early Learning's Founder who created our proprietary curriculum that aims at engaging and educating the children in order to learn and discover how they can contribute to our environment.
Our Methods at CEFA
Our curriculum at CEFA is evolving constantly. Our teachers who are certified by CEFA continue to search and suggest for new activities that are accessible to all our teachers in order to make curriculum-updates. We have an educational method system that is designed to not just academically teach children but to also educate them socially, physically, and emotionally. Every aspect of our development program for the children at CEFA informs and stimulates their brains in diverse ways.
Unlike several kindergarten and daycare programs, our method at CEFA is based on a modern approach to the development of early childhood reflecting children's needs around the world in our society today. It also aims to make sure your child is given a voice, encouraged to speak for one's self with enthusiasm and joy. With CEFA's method, your child's unique and special individuality is also celebrated.
The Programs We Offer
With CEFA's world-class enriched curriculum, your children are provided with programs that give them the freedom to enhance and grow by playing and learning through experiments. Our programs for Masterminds are literacy, reading, and writing. For Creators, we offer visual arts, music program, dramatic arts, and creative play. For Change-Makers at CEFA, we provide programs like yoga, P.E., and mindfulness. And for Innovators; we give Mathematics, Science, coding, and technology programs.
At CEFA, we value our teachers for the services they give as well as for the affection and care they share to the children. In return, we provide them with an additional specialization such as the Teacher Training at CEFA developed by our founder and CEO Natacha V. Beim. This training course is done in two semesters wherein teachers study the philosophy and curriculum and learn how to apply them in the classrooms.
The Core Values We Form
CEFA's mission is to encourage learning in our children, that they may be knowledgeable, self-betterment seekers, and make contributions as individuals by making a difference, leading, inspiring, respecting others, and improving one's self.
If you have questions regarding the details of the programs we offer at CEFA Early Learning, or regarding the school's founder, history and methodology, give us a call at 1-604-708-2332 or fax us at 1-604-638-0951. If it's about a concern or a comment regarding Richmond preschool or CEFA's other school branches' services you are letting us know, email us your message at info@cefa.ca. We love to hear what you want to say.   
Richmond Preschool
We welcome your comments!