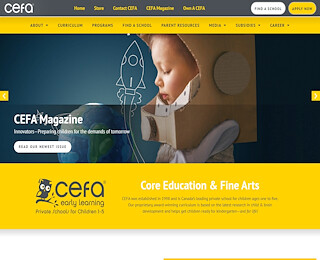 Here at CEFA, we hope that parents love and appreciate their children's daycare and Surrey preschool teachers as much as we do. They're doing such a great thing for kids and for the community at large and deserve our appreciation and gratitude.
With the holidays coming up, you may be on the hunt for the perfect gift for your child's teachers in a Surrey preschool. Here are some ideas that we've put together to make your decisions easier. These are some ideas that you can do regardless of your budget.
Gift Cards
Who doesn't love a gift card to their favorite coffee shop or retail store? This is a small gesture that's easy to get and shows appreciation for your kids' teacher. If you can, try to find out what kinds of things the teacher likes—coffee, new clothing, or local foods and restaurants—and get something that fits their hobbies and interests.
Things for the Classroom
Teachers take a lot of money out of their own pockets to pay for things that they provide to your kids at school. Perhaps a good idea would be to ask the teacher what they need more of in their classroom. It may be books, crayons, pencils, or anything else, but any donation you can give to the Surrey preschool classroom for something they need is sure to be appreciated.
Homemade Items
If you're great at crocheting things, knitting, or painting, or if you have some other skill, consider donating your time and talents to make a gift for your child's Surrey preschool teacher. The gift will be extra meaningful because it was made by hand and even more so if you have your child help. Let your child pick out the colors that you use, or help with picking out materials.
With any gift that you give the teacher, ask your child to paint or color a special picture for their teacher. They will feel more valued if they were able to help out with the special gift for their favorite teacher. This is another gift you can give that doesn't have to cost a lot, if anything, if you're on a tighter budget.
If you've reviewed this list and these suggestions and still need some extra help, try and visit the classroom one day. Observe what the teacher has around the class. If you notice they have the same coffee cup day after day, or they're always carrying in a disposable cup from the coffee shop, maybe a nice reusable mug would fit the bill. If they have hand sanitizer around the classroom, maybe some new scents from the specialty shop would be a good idea.
Coming up with gift ideas for your child's teachers if they are enrolled in a Surrey preschool can be trying. Maybe you don't know them that well yet, or you're not sure of their likes and dislikes. These gifts may be small and simple but when they come from the heart, with gratitude for what they do for your children every day, they'll be very much appreciated.
Surrey Preschool
We welcome your comments!