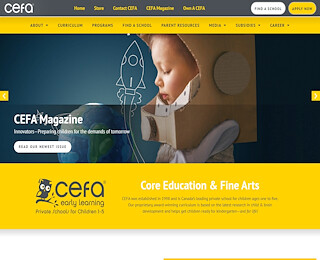 Young children are in their most formative years from birth until about five years of age. During this period it is essential to provide them with high quality education that is age-appropriate. More and more parents realize that they need to enroll their child in a program that prepares them for their educational and other needs as they grow. Simple daycare providers do not provide the skills that will prepare kids for higher education and beyond. If you are considering opening a childcare franchise in Canada you have various choices.
CEFA Childcare Franchise in Canada
If you are thinking about starting a childcare you most certainly want to consider a CEFA childcare franchise in Canada. We think our program is the best early childhood education program available. It has a reputation of providing children with the finest education possible including full day, part time, junior kindergarten and summer programs.
Teachers are all certified early childhood educators and then go through a CEFA training program. The program provides them with the tools they need to develop classroom lesson plans based on the methodology and philosophy that is required for CEFA employees.
CEFA franchises are supported throughout the process including selecting a location, outfitting classrooms, hiring teachers and providing training. Enrollment and income is predictable and our programs continue to gain in popularity with parents across the country. CEFA is the largest private early learning school in Canada.
Our enriched curriculum is second to none and you will be fully supported in providing the CEFA method of teaching children. We help you strategize and offer ongoing management support. We provide regular meetings for our franchise operators where you will get the latest information and meet other franchisees and get answers to your important questions.   
Are You Ready for a CEFA Franchise?
You may be ready to own a CEFA franchise if you are enthusiastic about providing high quality education to young children. You must be ready to attend teacher training to learn the methods and philosophy of CEFA. You need to have a strong business ability and be willing to become part of a team of franchisee owners.
As a CEFA owner you must be committed to the high CEFA standards and will always be a strong representative of CEFA. You must be professional at all times and certainly be an avid promoter of CEFA. In addition, you must be dedicated to our programs and have the necessary finances to purchase a franchise.
Our franchise owners are a group of highly skilled individuals with a strong early childhood education background and agree with the methodology of CEFA. Our programs are the best in the country and we expect only the best from our franchise owners as representatives of our brand. If you are interested in becoming a franchise owner you can obtain more information by speaking with one of our franchise sales representatives. You can request more information about owning a CEFA childcare franchise in Canada by filling out our online form.
Childcare Franchise Canada