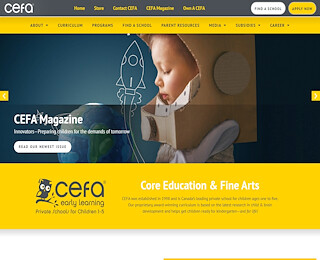 In today's world both parents usually work and they need to find daycare for their children. There are some daycare alternatives that are beneficial to young children. Consider a provider that offers high quality academic education as well as promoting socialization and emotional and physical enhancement.
CEFA is one of the best daycare alternatives in Canada. Our educational method provides education for the whole child that includes not only academics but also social, emotional and physical education. Children who attend CEFA are better prepared than most other children when they start school.
Available Daycare Alternatives
As parents start thinking about daycare alternatives for their children they need to consider all of their options.  There are a variety of choices from which you may be able to pick. For example, you may have a relative such as the child's grandparent, who might be able to watch the child. Another option may be a home daycare or a daycare facility.
Keep in mind that your child needs to start learning the basics of academics so they can build a strong foundation before they reach kindergarten. Most daycare providers and relatives won't be able to offer the type of education that a child needs during these formative years. Children also need to interact with other children and adults so they can begin to learn socialization skills.
Parents can determine their specific needs. In some cases it may be best to supplement your home daycare situation with a more educational option such as CEFA. CEFA offers flexible part-time programs that will give children the educational tools they need as they progress towards higher education.
CEFA Programs
CEFA programs are located across Canada. CEFA was first developed about 20 years ago by a professional teacher. The methodology combines some of the concepts from Montessori programs and pre-kindergartens. The programs include curriculum that extends beyond basic academics, although the major subjects of reading, writing, math and science are included.
The CEFA curriculum provides children with exposure to many different subjects such as fine arts, drama, music, dance, languages, physical exercise and yoga. Children are encouraged to develop their creativity and reasoning skills as they observe, explore and experience many different things. This allows young children to become interested in a wide variety of things and gives them confidence to feel comfortable while learning.
Children who participate in CEFA programs have the tools they need to be successful in school. They are prepared both academically and socially to attend classes, starting with kindergarten. CEFA has a junior kindergarten program that gives young kids the information and confidence they need as they enter school. Summer programs are also available for children at CEFA.
CEFA has franchises in many convenient locations across the country. Our certified teachers help students learn through fun and interesting activities that they enjoy. Children enjoy their days at CEFA and parents are thrilled with the results. If you are interested in enrolling your child in CEFA submit an online enrollment application or call us for more information.