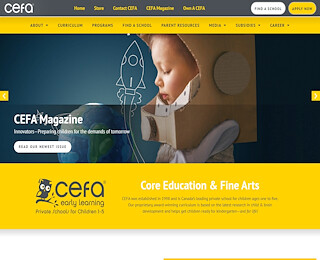 Your child's educational path begins at a young age. From the time your child starts to walk and talk he is learning about the world and gaining the skills that will help him throughout his life. Early childhood education in AB starts with the choice of daycare centers. It is important to keep a few things in mind as you begin to review the options for your child.
Early Childhood Education in AB
The curriculum, methodology and teachers are what set CEFA apart from other daycare providers. We don't simply babysit your child. Instead we provide them with a solid educational foundation that they will take with them as they enter school. The CEFA program is designed to educate the entire child including academically, socially, emotionally and physically. To that end we provide programs that allow young children to learn and explore all of the many things that are available.
All of the core subjects are covered including reading, science, math, writing at age-appropriate levels. Children learn in creative and fun ways that will help them understand the concepts that are used as building blocks to learning. Then, we incorporate fine arts and fitness to round out the child's experiences. Teachers are able to create curriculum plans for their students based on their specific needs. Students are grouped by age and ability so that they get the most from the learning experience.
High Quality Education for Young Children
At CEFA we strive to provide every child with high quality early childhood education in AB that is age-appropriate. Children are allowed to learn and explore the curriculum so they are prepared for their entry into school. Young children are able to grasp the concepts that will keep them interested and enthusiastic about learning.
Children who learn at CEFA are better prepared to move onward on a path of higher education. Best of all, students are never bored when they are learning. They enjoy learning and are able to take in all of the information that they are provided to improve their skills. As they progress children will be excited about learning and will want to continue learning more and more.
Finding a CEFA Early Learning Location
CEFA is a franchised learning center with locations all across Canada. Early childhood education in AB begins with an application. Get your child off to the right start from the beginning. Our centers accommodate children from the ages of 6 months to 5 years old. Our programs are extremely popular because they are successful. They provide children with the basic cornerstones of education that they will use to build on as they continue through the educational process and beyond.  Children who attend CEFA programs are much better prepared for school than other children of the same age that did not attend CEFA. If you are interested in getting the best possible education for your child it is necessary to submit an application as soon as possible. To learn more about CEFA and to submit an application visit our online application page.
Early Childhood Education Ab