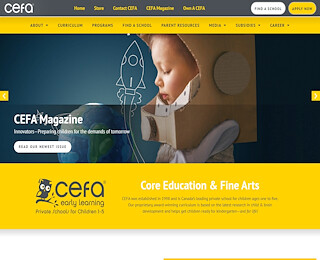 Children begin learning the moment they are born. As they start to talk and walk they begin to explore their world and their minds are ready to absorb all types of new learning experiences. CEFA is one of the most respected early learning centers in the country. Our teachers are special. They provide young learners with the guidance they need as they begin their educational path. At CEFA we offer a number of early childhood jobs for enthusiastic teachers who are willing to learn our teaching methods.
Early Childhood Education Jobs
The mission at CEFA is to inspire children to learn, to be knowledgeable and to seek self-improvement so they can contribute to society. Each child has his or her own unique talents that they can develop as they are introduced to a variety of different things. Our teachers need to share our core values because that is what makes us strong and successful.
We want teachers who are excited to make a difference in the lives of young children and inspire them to want to learn. Our teachers lead by example and create learning plans that produce results. Additionally, our teachers must have respect for the children and for one another. This respect will give children a role model they can follow.
At CEFA we have many early childhood education jobs available for the right candidates. We are looking for skilled individuals who are excited to contribute to the early learning experience. Each of our locations requires a principal, vice principal, education coordinator, chef, administrators and teachers.
The CEFA Difference
At CEFA our principals oversee the operations of the facility to ensure that our policies and procedures are properly carried out. Facilities must adhere to our operational policies and all staff members must be adequately trained and participate in regular reviews.
Teachers at CEFA must focus on our approved method of teaching. They will receive training and regular information that will help them develop curriculums that meet our high standards. Teachers are encouraged to become CEFA certified so they learn and understand our procedures and methods before they begin work. Teachers have the ability to take creative control over their classrooms so they can best help children develop their skills.  
Teachers are required to have an Early Childhood Educator license or they must currently be enrolled in a program in which they are seeking their license. Teachers and others who seek early childhood education jobs must go through an interview process and must demonstrate their skills that will make them an asset to the CEFA program.
CEFA facilities are located in many cities and areas across Canada. We seek employees who are enthusiastic about helping children reach their potentials. There are a number of early childhood education jobs available through the individual franchises. Each facility has specific needs for a variety of different employees. If you are a skilled and certified early childhood educator we want to talk to you about joining our team. Contact us today to learn how to submit your application for employment.