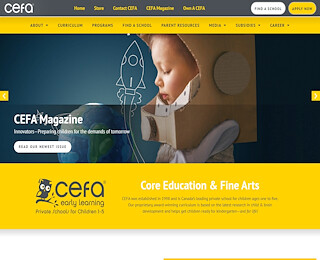 Children develop greatly physically, emotionally, socially and educationally from birth through age 5. They begin to develop their personalities and this period of time is indeed considered the most formative in a person's life. Parents want to provide their child the best education possible and it should begin as early as possible. Kids can be enrolled in programs for early childhood education in Richmond Hill to prepare them for life ahead.
It is almost never too early to start thinking about childhood education in Richmond Hill. Your child is developing very quickly and the sooner you provide high quality education the better prepared your child will be for a lifetime of learning. CEFA provides children with the early childhood education in Richmond Hill they need as they get ready to enter school.
Early Childhood Education in Richmond Hill
Children need to learn the fundamentals that they can build on as they enter school. These include academic subjects such as reading, writing, math and science. A strong core education helps youngsters develop the foundation they need when they get to kindergarten and beyond.
At CEFA we provide the tools and guidance that will help children understand and learn the basics of the core academic subjects. In addition, CEFA also incorporates many other subjects into the curriculum. Some of these include music, fine arts, dance, languages, cultural immersion, physical education and more. The programs are designed to promote a child's natural curiosity and observation.
Teachers are certified and provide classroom plans that include age-appropriate activities. Students are grouped according to age and ability so that they can learn important socialization skills. Even young children can start on a path towards higher education. Early childhood education in Richmond Hill helps children begin to learn the fundamentals of academics.
For example, young children can practice motor skills that will allow them to hold and write with a pencil. Kids are taught how to reason with simple math problems. Science programs allow kids to observe and explore the various aspects of topic they are learning. By incorporating real-life uses for academic subjects it allows kids to better understand the main concepts which they can use to build on as they progress into kindergarten and beyond.
The pre-kindergarten program at CEFA prepares young children for their entry into school the following year. They are more prepared than many other students and are already familiar with many of the subjects that are taught. They are also better able to adapt to school because they have participated in a structured program that gives them the skills they need to attend school on a daily basis. They also learn important socialization skills so they can more easily make friends and communicate more confidently with their teacher and others.
CEFA is designed for children ages 6 months to 5 years of age. All of the programs are specifically created for young students in a way that is fun and engaging. Children and parents alike enjoy our programs. You can learn more about our programs and enroll your student online.
Early Childhood Education Richmond Hill
We welcome your comments!