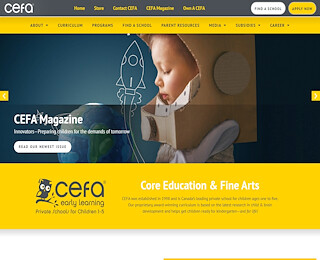 Children's education is among the most important careers in the world. Our children are next generation of resources and as they grow we need to provide them with high quality education from skilled teachers. Teachers with training need to look for top early childhood education, ECE jobs in Canada. There are various places to utilize your training and skills in a pre-school setting.
Finding ECE Jobs in Canada
There are several top early childhood learning providers that generally look for well-educated teachers. Of the various places to find ECE jobs in Canada, probably the most sought-after jobs are those at CEFA. CEFA values teachers and expects excellence. They choose teachers with credentials and those that have experience teaching young children.
CEFA teachers need to learn the special methodology that is utilized in our schools. We offer CEFA Teacher Training® that was developed exclusively by our founder and CEO, Natacha V. Beim. The course is two semesters in length and provides new CEFA teachers with the curriculum that we use and the philosophy that we engage. The program prepares teachers to start teaching in their own CEFA classrooms.
CEFA training includes the philosophy of working with young students and their parents, CEFA curriculum, games and materials and information about how to plan and organize curriculum. Teacher training is a combination of presentations, group activities and planning and teachers must pass an exam upon completion of the course.
CEFA Approach to ECE
CEFA was established by Natacha V. Beim about twenty years ago. As the founder, Natacha was an accomplished elementary school teacher. She decided to use her extensive knowledge and background in childhood education to provide high quality education to young children. Her goal was to provide a modern approach to ECE. Programs are designed to educate the whole child including academically, emotionally, socially and emotionally.
Curriculum programs include the building blocks of academics such as reading, writing, math and science, plus much more. Additional learning programs include music, drama, fine arts, languages, yoga, physical education and cultural immersion. Kids learn from a variety of methods that give them the opportunity to be creative and to develop their reasoning skills.
Children and teachers are respectful and learn the important social skills necessary as they prepare for higher education. CEFA teachers prepare their classroom plans based on the needs and abilities of the students. Children are grouped by appropriate age level.
The junior kindergarten program offers youngsters the training they need to prepare them for kindergarten. They will be completely ready to handle their school days with a continued thirst for knowledge. In addition to junior kindergarten classes we also offer full and part time programs for children ages 6 months to 5 years. We also provide summer programs.
There are many CEFA franchised locations and we are often looking for qualified teachers. Credentialed teachers across the country are prime candidate for CEFA ECE jobs in Canada. If you are interested in a position in our company contact us online by filling out a teacher inquiry.
Ece Jobs Canada