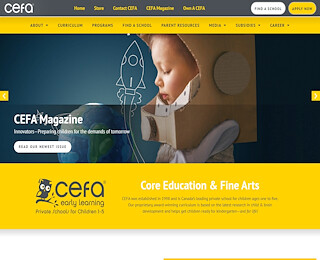 Children develop at the highest rate during their first five years of life. Montessori schools in Canada are designed to provide high quality early childhood education to youngsters during their formative years. Montessori teachers are trained using one of two main methods and use materials and lesson plans that have been created and designed for use in the classroom. They do not deviate from the general lesson plans that are provided.
Differences between CEFA and Montessori Schools in Canada
CEFA and Montessori schools in Canada are similar but are not the same. It is helpful to know the differences so you can choose wisely for your child. Montessori schools are based on educational principles that have been in use for more than a century. Teachers use strict guidelines and lesson plans to provide information to students. While children are encouraged to be successful, they are not usually challenged. They are more likely to be guided in the academics that are the foundation of learning such as reading, writing and arithmetic.
CEFA schools are similar to Montessori schools in Canada in that they provide high quality academic education for young students. However, CEFA includes modern concepts that incorporate the whole child. For instance, the CEFA method educates academically, socially, emotionally and physically.
CEFA Methodology
CEFA introduces children to a wide range of curriculum. In addition to reading, writing, math and science, CEFA also includes many other programs. Some of the programs are fine art, music, languages, drama, yoga, physical education and cultural immersion.
Teachers are trained and certified in the CEFA methods. They are allowed to create their own classroom plans based on the curriculum options available. Teachers not only present materials and provide instruction but they also observe children to see where they excel and what they are most interested in learning. Children are encouraged to explore their interests and their creativity. They are able to learn reasoning skills and fulfill their curiosity.
While there are some learning objectives, students learn through many various opportunities and hands-on observation and exploration. Teachers create goals for children that are based on their abilities and interests. Kids are allowed to have fun while learning and are able to express themselves. They develop a joy for learning that will carry them through their years of higher education and beyond.
Contemporary Approach to Early Childhood Learning
CEFA offers a modern, contemporary approach to early childhood learning. It incorporates many of the same elements of Montessori schools yet improves on the programs by allowing children more input and creativity. Kids enjoy learning at CEFA while they are getting prepared for school. The subjects are taught in ways that offer a foundation that students will build upon as they increase their knowledge and skill levels. The junior kindergarten program is specifically designed to prepare children for their next step as they begin school.
Parents and children are thrilled with the programs at CEFA. There are many CEFA locations across the country offering programs for children from 6 months to 5 years of age. Call us today or submit an online enrollment application.
Montessori Schools Canada