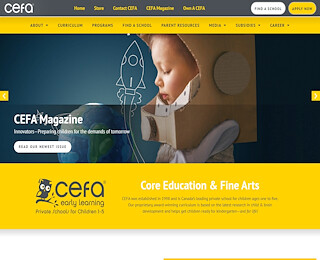 Do you have a child between the ages of 3 and six years old? Are they upset because their old brothers and sister are going away to camp, but they are too little? Do you wish there was a Preschool Summer Camp? Well, there is a camp just for that. During July and August, CEFA offers summer camps for children ages 3-6. They have a verity to choose from, but in all of them, they work on the basics like reading, writing, and all the other core classes. Your child will get to enjoy four of the following programs.
In the little chef's program, your preschooler will get learn their way around a kitchen. They get to enjoy helping in the kitchen while they make some delicious, healthy foods. Your preschooler will get to explore different ways to measure and cut thing as well. We also have a dramatic play area where they will get to play a restaurant using everything that they have learned. All of this is done while keeping your Childs safety in mind.
The next preschool camp is called camping and the great outdoors. This program works on your preschooler's gross motor skills as they play sports and even some Olympic style games. They will also have other outdoor games and activities as well. Your child will use there imagination as they camp inside. They will be creating a lot of memories with this program and learn about the great outdoors at the same time.
If your child is creative, then the Art Expression program is a must. In this program, your child will get to explore the different kinds of art. They will get to explore everything from Acting to dancing and even painting. They get to explore these and many more. They will even get to make and bring home their very own puppet. They will also get to paint on a canvas and try their hand at sculpting.
Another preschool summer camp is We are the world. Your Child will explore different culture and traditions. They will also learn about recycling and other ways to keep our plant healthy. Your preschooler will get to dig for things like ancient artifacts, and they might even find a dinosaur bone or two.
The fifth program that you might find for your preschooler is called Music and Movement. This program is where your child will get to have fun painting with their feet and get to learn about composers. A new part of this program is an award-winning program called Fun With Composers. Your preschooler will learn about classical music. We do this with storytelling and creative movement.
The last is the nutty professors in this program your preschoolers will learn all about science, They will learn with activities like build volcanoes and rocket ships.
CEFA focuses on the whole child. They place kids according to age by birth year instead of in grades. For more information on these programs as well as a location near you got to cefa.ca.