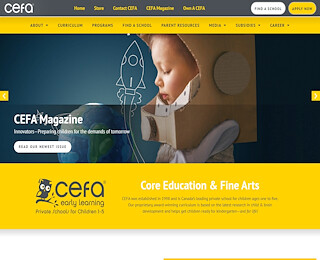 Parents likely aware that young children develop the most before they reach age 5. This critical five-year period allows you to get education for your child while he or she needs it the most. Some parents opt for daycare while others prefer private education in AB. The choice of your child's pre-school education is an important one that requires careful consideration.
Choosing Private Education in AB
There are several options for childhood private education in AB. Daycare centers are among the most popular options but they often don't include programs that will provide the type of education that your child needs. It is usually best to look at a school that offers educational methods that are proven to be successful.
CEFA was founded as a modern version of the Montessori school model. In addition to providing children with the basic foundational subjects of reading, math, writing and science, it also includes other curriculum to enrich a child's education. Some of these subjects include fine arts, drama, music, physical exercise, yoga, languages and physical education.
At CEFA the curriculum is designed to educate the entire child including academically, socially, emotionally and physically. The programs are created by teachers according to the standard of CEFA. Children learn respect while they explore the world through observation and other age-appropriate learning techniques.
Preparing Your Child for School
Children are expected to know quite a bit when they enter kindergarten. Kids should be exposed to the foundations of learning so that they won't fall behind the other children in their class. CEFA offers pre-kindergarten private education in AB for children who are preparing to enter school. Children will begin to learn some of the fundamentals of the basic educational courses as well as the emotional and social skills they need to enable them to get the most from their continuing education.
Pre-kindergarten goes beyond the basics and provides kids with a solid base to feel confident and secure in their abilities. CEFA teaches children to use their creativity and reasoning skills so they can develop and grow into independent thinkers. These life skills will serve them well as they enter and advance in school.
Children under the age of five are still developing at a fast pace. They are able to gather quite a lot of information about the world around them. At this young age they are beginning to develop their personalities and they are also starting to expand their ability to learn. It is often thought that children who receive private education in AB at a young age may actually increase their IQ.
It is helpful to enroll your child in an educational program as early as possible. CEFA accepts children from the age of 6 months to five old. We offer a variety of flexible schedules that allow parents to choose full or part time care. We have locations across AB so there is likely to be one that is conveniently located. It is best to submit an enrollment application as early as possible. Contact CEFA today to learn more and to enroll in our programs.  
Private Education Ab