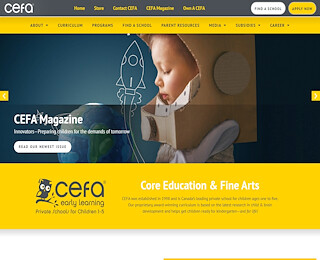 Your child undergoes immense development from birth through age 5. This is the most formative time in a young child's life. They are starting to learn about themselves and the world around them and their knowledge and personality are developing rapidly. You can greatly assist your child along this path with private education in Richmond Hill.
Private Education in Richmond Hill
There are some essential ingredients to look for when considering private education in Richmond Hill. It is important to provide some academic education in the basic subjects of reading, writing, math and science. Beyond that, a child will also benefit from exposure to a large variety of subjects and interests.
CEFA offers immersion learning that includes a selection of various subjects such as fine arts, dance, music, yoga, languages and physical education. Children are encouraged to be creative and to learn how to think and reason. CEFA offers education for the whole child that includes academic, emotional, social and physical experiences.
Young children are exposed to academic subjects in ways that make sense for their age group. For example, fine motor skills are practiced in order to prepare a child for holding a pencil and writing. Reading is taught using the seven essential components along with phonetic reading. Practical math concepts are taught that allow children to develop reasoning skills.
Children learn through a variety of techniques and are able to observe, explore and experience new things. They are encouraged to use their creativity and teachers guide them through their daily curriculum that makes learning fun.
Choosing a Daycare Provider
There are many different daycare providers to choose from. Parents need to review their options to find one that fits their needs and expectations. Not all daycares are alike. Most simply provide playtime for children with supervisors who are not necessarily teachers. The best private education in Richmond Hill provides children with academic and other instruction based on specific standards. CEFA offers a great option because it gives children the educational foundation they need and at the same time offers a fun experience.
Children learn easily and are allowed to spend time participating in many enjoyable events, field trips and outings. The CEFA method is employed by our teachers and they ensure that the children are learning and enjoying their days.
CEFA offers flexible schedules that include full or part time attendance. Children from 6 months to 5 years can enroll in CEFA programs. There are also summer programs available. Children who are preparing for kindergarten are encouraged to enroll in pre-kindergarten classes. This program gives youngsters a head start so they will be adequately prepared socially and academically before they enter school.
Parents need to choose their children's early childhood education carefully. A good, solid beginning education can help a child all through his or her higher education and beyond. CEFA is an excellent option for young children. We have various locations in Canada including Richmond Hill. Contact CEFA to find a location near you and to submit an enrollment application online.
Private Education Richmond Hill
We welcome your comments!