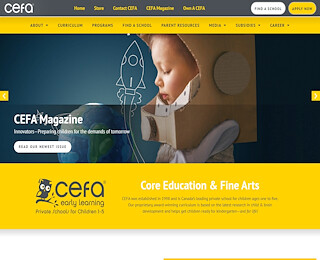 Today's education for children begins well before kindergarten. Children need to learn many of the basics before they enter school so they don't fall behind. Young kids love to learn and they are ready to start their education almost as soon as they start to walk and talk. It is important to take advantage of a young child's thirst for knowledge by enrolling them in one of the best private schools in AB.
Early Childhood Learning
The early years of a child's development are crucially important. Children are learning from their surroundings. They are quickly gaining the insights they need to grow socially and emotionally. The CEFA program nurtures youngsters and helps them as they increase their skills when dealing with others. The first five years of a child's life have a big impact on his or her future.
Not all private schools in AB are the same. At CEFA we use a teaching method that is designed to educate the entire child including academically, socially, emotionally and physically. We offer a stimulating curriculum that includes a large variety of options that will make it easier for children to grow and develop.
Choosing Private Schools in AB
Choosing private schools in AB begins by assessing their programs. You can view all of the many programs that CEFA has to offer to determine whether the curriculum meets your child's needs. At CEFA our program was developed by expanding and updating the Montessori models. Our programs have proven to be effective and they help to prepare children for successful educational years ahead.  
Our curriculum starts with the basic fundamentals necessary for learning reading, writing, math and science. The program establishes a firm foundation in each of the necessary subjects so the child can expand on his knowledge through further education.
We combine these subjects with many other important and interesting areas that help round out a child's education. We offer dance, fine arts, yoga, music, physical education, dramatic arts and languages as well as cultural immersion. We guide young children as they explore and observe by providing them with new experiences and interests.
CEFA offers flexible options for busy parents. You may opt for full time care or several days a week. We also offer special summer programs. Our pre-kindergarten provides children with the basic tools they need as they prepare to enter school for the first time. When children have the building blocks they need they will be on the path to a lifetime of inspired learning. There is nothing that your child can't do and our team of certified teachers and principals are here to help your child learn and grow from a young age.
CEFA offers programs for children ages 6 months to 5 years. We have various locations in Canada so there is sure to be one that is conveniently located for you and your family. Get your child started on the path to higher education. Contact us today to inquire about our excellent programs or fill out an online enrollment application.
Private Schools Ab