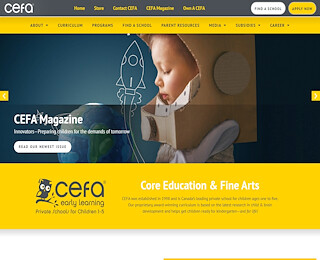 Preschool and early childhood teachers may be interested in owning their own company. One of the best ways to start a daycare is to purchase a franchise. Before you do you will want to do plenty of research on the top preschool franchises in the country. There are several that are among the highest rated and these are likely the ones that you may be interested in operating.
Choosing Top Preschool Franchises
There are various daycare and preschool companies that offer franchises. Before you make a decision it is best to take a close look at them. The most important consideration is to make sure that you agree with the philosophy and methodology that is utilized in the preschool operation. This is the main focus of your business and something that you won't be able to change.
You have probably heard the names of some of the top preschool franchises in Canada. Montessori, Reggio Emilia and CEFA are leaders in providing high quality early child learning. They are the top preschool franchises in Canada. If you are considering opening your own early learning center it is helpful to understand the differences between these franchises.
Comparing Franchises
Montessori schools use a specific method of teaching that has been the staple of their organization for more than a century. Teachers use one of the two basic Montessori methods and plan their lessons based on a child's developmental level and interests. The curriculum is wide ranging and exposes children to many concepts, however, the methods are structured and do not allow for a child's creative exploration.
Reggio Emilia schools offer much more creativity and opportunities for learning. The teachers are not trained or certified and are expected to learn while on the job. This can create some discrepancies in teaching and some students may see better results than others depending on the experience of their particular teacher.
CEFA early learning is designed to take a modern approach to Montessori methods. Teachers are all certified and use the CEFA methods for teaching students. Teachers have the ability to create their own lesson plans from a variety of curriculum options. Children learn the basic academic subjects such as math, science, reading and writing. The teaching method educates the whole child so they learn not just academically but also socially, emotionally and physically as well.
CEFA takes all of the child's needs into consideration in developing the curriculum. The many subjects include such things as fine arts, dance, physical exercise, music, yoga, languages and cultural immersion. Teachers have the ability to create lesson plans that allow children to experience these ideas in a way that is fun and interesting. Kids can observe and experience subjects through many different methods and are free to use their creativity and develop their reasoning skills.
CEFA provides programs for children from the age of 6 months to 5 years. The programs are full or part time and summer programs are typically available. Junior kindergarten programs are provided to prepare children for their first school experience. To learn more about owning a CEFA franchise, call us or contact us online.