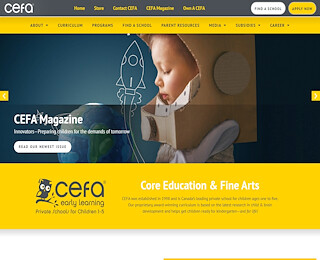 Most parents need to send their children to daycare at some time in their young lives. Of course, not all Vancouver daycare facilities are the same. Some are simply glorified babysitting services that don't provide much more than a watchful eye as your child goes about playing all day. If you are like most parents, you want to choose a facility that gives your child a head start in their education. CEFA is a leading provider of high quality education for children ages 6 months to 5 years of age.  
A Better Vancouver Daycare Option
CEFA is a better Vancouver daycare option for caring parents. At CEFA we value children and provide them with a contemporary path of higher education. We have a variety of curriculum options that educated the whole child including academically, socially, emotionally and physically. This holistic approach to education was first introduced by CEFA creator Natacha V. Beim in 1996 and has since evolved into one of the best learning programs in the country.
The program was based on the French junior kindergarten program and we still offer junior kindergarten to children who are preparing to enter school. Our curriculum includes the basic cornerstones of education such as reading, writing, math and science. Then, we build on that to include instruction in many other areas such as fine arts, dance, music, exercise, yoga and more. Our teachers use the CEFA method to create their classroom programs.
The Path to Higher Education
Children today are more advanced than ever before. They require better childcare programs that will teach them the foundations of education while they learn to explore the many areas of interest. They will be able to express their creativity while they are being properly supervised by a certified instructor.
All of the learning activities are age-appropriate and children are grouped by age and ability. The teachers help children learn the fundamentals of basic subjects and more while learning to respect one another. These are the main values that will carry a child through their educational career and beyond.
In addition to the core subjects, children are allowed time to play, explore and observe with plenty of time for outdoor activities, naptime and more. The CEFA method incorporates many of the same methods as Montessori but takes them a step further and modernizes them for today's needs.
When you are looking for Vancouver daycare for your child you need to consider the methodology and curriculum that is in place. Some facilities don't offer any structure while others may be too focused on traditional learning methods. CEFA offers children a way to learn in an open and nurturing environment that allows them to discover their own talents and preferences. They will get to sample many of the important areas that they may want to develop as they grow and advance.
CEFA is much more than just a Vancouver daycare. CEFA has programs to meet your needs whether you need full time care or want the flexibility of several days a week. We also offer summer programs. Contact us today to learn more about our excellent programs or fill out an online application.